Sonria Pavilion is located at Industry St. corner Finance St., Madrigal Business Park, Brgy. Ayala Alabang, Muntinlupa City.
Sonria is a residential condominium developed by Geo Estate development in Sonria Pavilion, Madrigal Business Park, Alabang. Alabang is part of Muntinlupa in Metro Manila. At one point, Alabang was a farming district. However, it has evolved tremendously over the past few decades and is now one of the country's biggest commercial centers. The Filinvest City and Alabang Commercial Center are two of the most notable landmarks in this part of Metro Manila.
Alabang is therefore a hub for corporate buildings, shopping centers, and other high-rise buildings. The new Madrigal Business Park is located along the Alabang-Zapote Road in Muntinlupa City. It is a project of Ayala Land, which is a mixed-use, masterplanned community. It aims to bring together high-rise developments into one place so that people from Alabang can live, work, dine, and shop in one place. It is a lifestyle hub that is the ideal address for the city dwellers because everything is within your reach.
The economy of Alabang has exponentially grown along with the development boom during the 1990s. There were several real estate developments in the area, which opened up more employment opportunities for the locals and attracted more investors. Today, Alabang is best known as the rich's playground with many high-end condominiums, corporate offices, and high-end shopping centers and malls.
Speaking of shopping centers and malls, there are plenty of them for the residents of Sonria to choose from. The most popular malls in Alabang that are a few minutes away from Sonria include Alabang Town Center, Molito, and Festival Mall. If you are keen on exploring weekend markets, too, the residents of Alabang love visiting Cuenca or Molito. There are lots of great food, arts, crafts, and other things on display during the weekends.
For those who love nature and enjoy spending time outdoors, you will have your fill of open parks and spaces to enjoy. These include the following: Ayala Alabang Village, ACT Activity Center Play Area, and of course, Madrigal Business Park (where Sonria is located at). Meanwhile, those who enjoy golfing and would like to practice their swing, there are two major country clubs in the area that you can join in: The Palms and Alabang Country Club.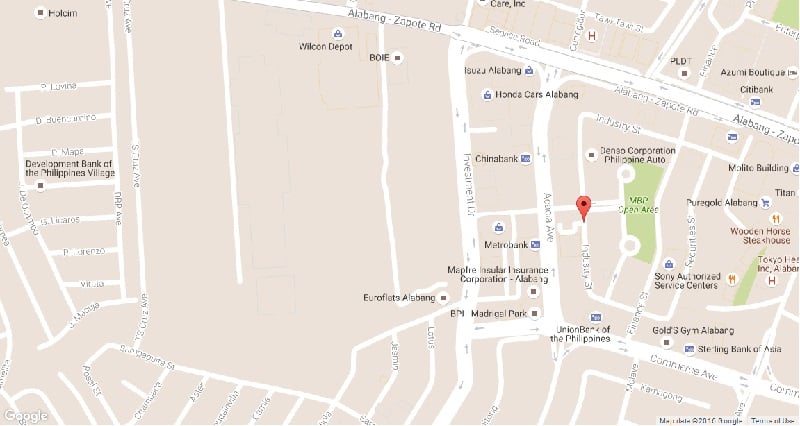 The location is also ideal for families who are looking to find a home in Sonria. There are plenty of well-reputed schools in the area that you can send your kids to. A few of your noteworthy options include De La Salle Zosel, Paref Southridge School, and Woodrose. There are also several places of worship in the area like St. James Church and New Life Christian Center.
Whether you are driving or commuting, Sonria is fairly accessible from other points in Metro Manila. It is accessible via Metro Manila Skyway if you are traveling from Manila or Makati. From Ayala Alabang Village, it is only about 7 minutes away if you travel via University Avenue and Acacia Avenue. Meanwhile, it is also accessible from the South Luzon Expressway for those traveling from Laguna or other parts of Southern Luzon.